++NEW++TOYOTOP-E100℃ Hose(TOYOX Brand)
2020.6.29
TOYOTOP-E100°C Hose

(Heat-resistant, wear-resistant, antistatic)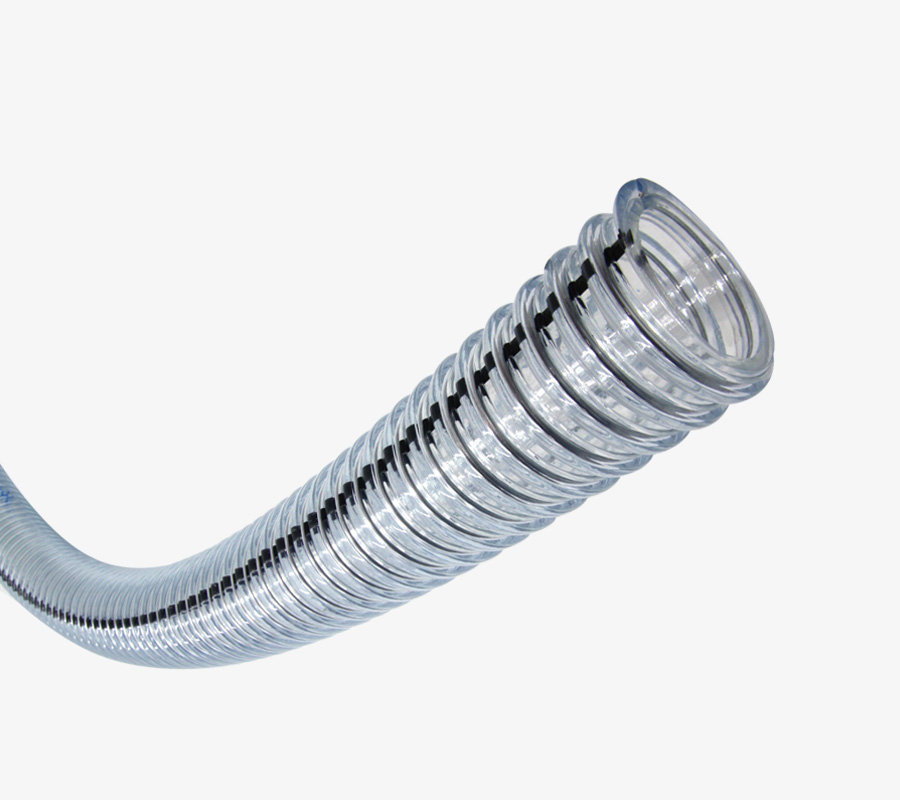 The TOYOTOP-E 100°C Hose is a heat-resistant, wear-resistant, antistatic hose ideal for the transport of high-temperature resin pellets in resin molding plants.
With heat resistance performance up to 100°C, it can be used for the suction and pressure feed of engineering-plastic type powder and granular materials after predrying. Hose bending and collapsing due to high temperatures can be prevented. As well, in addition to fewer holes in hoses and contamination risks due to fragments of hoses and grounding wires (copper wires), productivity can also be improved by preventing raw material clogging, etc., due to static electricity.
Reinforcement with metal wire enables stable transport with excellent shape retention even at high temperatures, and the use of wear-resistant special urethane for the inner surface of the hose provides at least three times the durability of conventional products (TOYOX product comparison).
As well, unlike hoses with general antistatic agents added, the structure of this hose integrates metal wires which accumulate static electricity and an antistatic band with a grounding function, maintaining stable antistatic effects in the long term. Further, the hose has a seamless interior structure which helps prevent plastic powder clogging.
Grounding is also simple. Just mount the dedicated grounding clip on the antistatic band which runs through the hose exterior, thus reducing work time.
♦ For antistatic hoses ideal for food powder transport.
♦ For antistatic hoses emphasizing chemical and oil resistance.
♦ For antistatic hoses for resin pellet transport with heat resistance up to 50°C.
Standards Chart by Size: Temperature Range -5℃ ~ 100℃
Product Code
Inner dia. x Outer dia.
(mm)
Use pressure
50℃
(MPa)
Use pressure
100℃
(MPa)
Standard weight
(kg/roll)
Standard length
(m)
Minimum bend radius
(mm)
TPE100C-32
32×44.6
-0.1~0.2
-0.03~0.1
17.2
20
260
TPE100C-38
38×50.6
-0.1~0.2
-0.03~0.1
19.0
20
300
TPE100C-50
50.8×64.5
-0.1~0.2
-0.03~0.1
28.6
20
400
Grounding clip (made specifically for the TOYOTOP-E100°C HOSE)
Part Number
Applicable hose
Packing Unit
(pc)

*This is not a hose clamp.
TFEC-32
TOYOTOP-E100°C-32
10
TFEC-38
TOYOTOP-E100°C-38
TFEC-50
TOYOTOP-E100°C-50
2020.06