~NEW~Hyper Toyoron Hose (Soft PVC hose)-TOYOX Brand
2019.7.4
Hyper Toyoron Hose (Soft PVC hose)
-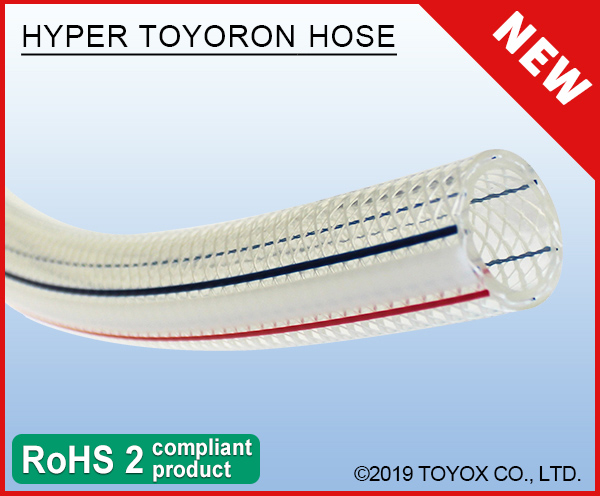 Applications
For factory equipment hoses and various equipment
Fluids
Oils Chemicals Powder Air Water, Hot water
Material
Soft PVC
Reinforcement material
Polyester threads
Features

RoHS 2 compliant:◎
Easy disposal: ◎
Insulating: ○
Low elution: ○
Chemical-resistance: ○
Oil-resistance: ◎
Transparence: ◎
Flexibility: ◎
Pressure feed: ◎

Temperature range
-5°C-70°C
Specifications
Standards chart by size Genuine couplings
· Precautions for use
[Fluid verification]
Unlike rubber hoses, the transparent HYPER TOYORON Hose allows good visibility inside so verification is quick.
[Easy fitting insertion]
The HYPER TOYORON Hose is easy to cut and couplings can be easily inserted for improved hose installation efficiency.
[Wide range of sizes]
Inner diameters range from 9 to 50 mm. Can also be adapted for larger diameters.
[Oil-resistant]
Superior oil resistance for longer product life compared to conventional vinyl chloride hoses.
Note: The HYPER TOYORON HOSE is compliant with the revised regulations of the RoHS 2.
| | |
| --- | --- |
| A multipurpose pressure-feed hose made of soft vinyl chloride, the HYPER TOYORON HOSE provides superior oil resistance compared to the TOYORON HOSE for a longer life. | |
Standards Chart by Size
Product no.
Inner dia. × Outer dia.
Use pressure
(MPa)
Range of temperature
Standard weight
Standard length
Minimum bend radius
Packaging
Color
mm
23°C
70°C
°C
kg/Roll
m
mm
HPT-9
9×15
0 to 1.5
0 to 1.0
-5 to 70
15
100
45
Bobbin style
Naturally transparent feature lines with blue threads
HPT-12
12×18
0 to 1.2
0 to 0.8
19
100
65
HPT-15
15×22
0 to 1.0
0 to 0.8
27
100
95
HPT-19
19×26
0 to 1.0
0 to 0.6
16
50
120
HPT-25
25×33
0 to 1.0
0 to 0.6
25
50
165
HPT-32
32×41
0 to 0.7
0 to 0.4
35
50
200
Film packing
HPT-38
38×48
0 to 0.6
0 to 0.4
45
50
300
HPT-50
50×62
0 to 0.6
0 to 0.3
54
40
440
Genuine Couplings
Hose size
TOYOCONNECTOR(Nut fastening couplings)
W-SAFETY CLAMP WITH NIPPLE
Screw type
PIPE THREAD MALE
Brass
Brass
Brass and plastic
Plastic
SUS
SUS
SUS
Brass
TC3-B
TC6-B
TC3-PB
TC3-PC
TC6-S
TC3-S
TCSB
WFSN
Hose part no.
Inner dia.
Outer dia.
HPT-9
9
15
OK
OK
OK
OK
OK
HPT-12
12
18
OK
OK
OK
OK
OK
HPT-15
15
22
OK
OK
OK
OK
OK
OK
HPT-19
19
26
OK
OK
OK
OK
OK
OK
HPT-25
25
33
OK
OK
OK
OK
OK
OK
HPT-32
32
41
OK
OK
HPT-38
38
48
OK
OK
HPT-50
50
62
OK
OK
Hose size
KAMLOK
KAMLOK COUPLER HOSE SHANK
TWINLOK COUPLER HOSE SHANK
(with locking feature)
Aluminum
SUS
PP
Aluminum
SUS
PP
633C AL
633C SST
633C PP
633CL AL
633CL SST
633CL PP
Hose part no.
Inner dia.
Outer dia.
HPT-9
9
15
HPT-12
12
18
HPT-15
15
22
HPT-19
19
26
OK
OK
OK
OK
OK
HPT-25
25
33
OK
OK
OK
OK
OK
OK
HPT-32
32
41
OK
OK
OK
OK
HPT-38
38
48
OK
OK
OK
OK
OK
OK
HPT-50
50
62
OK
OK
OK
OK
OK
OK
Hose size
KAMLOK
KAMLOK ADAPTER HOSE SHANK
Aluminum
SUS
PP
633E AL
633E SST
633E PP
Hose part no.
Inner dia.
Outer dia.
HPT-9
9
15
HPT-12
12
18
HPT-15
15
22
HPT-19
19
26
OK
OK
OK
HPT-25
25
33
OK
OK
OK
HPT-32
32
41
OK
OK
HPT-38
38
48
OK
OK
OK
HPT-50
50
62
OK
OK
OK