++New++Contactless belt tension–Doctor tension Type-Ⅳ(Mitsuboshi)
2017.10.2
DOCTOR TENSION TYPE-Ⅳ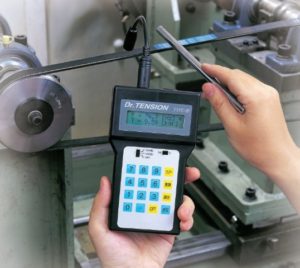 +Introduction
・To show a belt performance of transmission belts,one of the most important thing is proper tension strength.
・"DOCTOR TENSION TYPE-Ⅳ" is  contactless belt tension gauge measuring sound wave.You can measure belt easier than now!
+Characteristic
1)For various kinds of belt.(V-belt,Timing belt,Flat belt,Poly belt)
2)Wide range measuring of frequency.10.0~999Hz
3)Short measuring time(0.5`s at fast)
4)"Frequency of sound wave"and "Temsopm strength" can on the screen at the same time.
5)Can Choosing [kgf] or[N] available.
6)Have  memory deta.
7)Auto power off
8)Can choosing Japanese or English.
+Specification
Measurable frequency
10.0~999[Hz]
Measurement accuracy
±1Hz(Less than 100[Hz]
±1%(More than 100[Hz])
Setting date avaliable
Unit mass
0.0001~9.9999kg/m
Blet width
1.0~999.9[mm]
Belt span length
1~9999[mm]
Number of rib
1~99
Working temperature&Humidity
-10℃~50℃,less than80%
(Not use under condensation)
Storage temperature&humidity
-20℃~70℃,less than80%
(Not use under condensation)
Power source
2 pieces of size AA battery
Battery life
About 30 hours
Dimensions&weight
13.5X96X160mm,240g
Accessories
2 pieces of size AA battery,1 piece of flexible microphone sensor
Selling separately
AC adapter,code type microphone sensor
+How to measure
1)Turn off the power of driving system,confirm the standstill of belt-drive.
2)Turn on the "Dr.tension",input a date of belt condition.
3)Seting the sensor head as following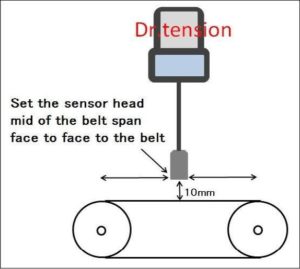 4)Hit he Belt by a grip of a screwdriver etc.&make belt vibrate.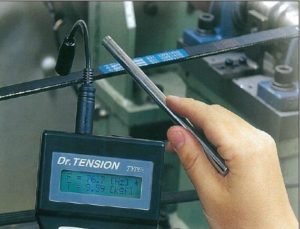 5)Measure several times&record the average.
+Packing Details
Size of Body:
Dimensions 13.5X96X160mm
Weight  0.24kg