++New++SINNETSU–Aqua Steam Heater
2017.9.25
++New++SINNETSU--Aqua Steam Heater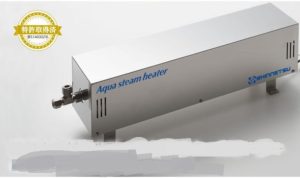 ++Feature
・It can make Max.500℃ superheated steam through staturated steam form the boiler.
・Using sheath heater to make compact electric superheated steam come ture.
・Can setting in the superheated stem area for it mini size.
・It can use suerheated efficienthly and prevent to low temperature.
・Making many kinds of equipment(Batch furnace ,Convery furnace)with Aqua Steam heater.
++Lineup

| | | | |
| --- | --- | --- | --- |
| Type | Capacity of heater | L | Voltage |
| ASH-1.8 | 1.8kw | 425mm | 200V |
| ASH-2.7 | 2.7kw | 425mm | 200V |
| ASH-3.6 | 3.6kw | 578mm | 200V |
| ASH4.5 | 4.5kw | 578mm | 200V |