++SHINNETSU++AQUA Stem Heater Direct
2017.9.22
++SHINNETSU++AQUA Steam Heater Direct   
                                                                                                                          t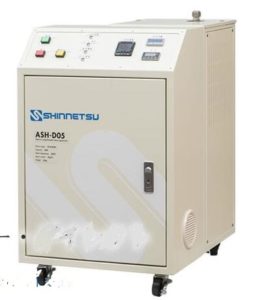 AQUA Stem Heater Direct is a Minium unit direct to make superheated steam from water directly.
+Featuren
・Making 500℃ steam 5kg/hr from water directly.
・This unit with speacial heater,water tank,pump and control panel.
・Without boiler.So you can set it in small place .Compact is Eassy to move.
・Good for customer who plant to make steam experiment in complany.
+Specification
| | |
| --- | --- |
| Production No | ASH-D05-C |
| Rated vohage | 3phase 200V |
| Rated Vohage | 6kW |
| Water Vapour Content | 2~5kg/hr |
| Temperture of Exit | 200~500℃ |
| Pressure | 0.1~0.3Mpa |
| Standard | Simple once throuh boiler |
| Dimension | W550XD600XH820 |
| Quality | Approx. 70kg |
+System