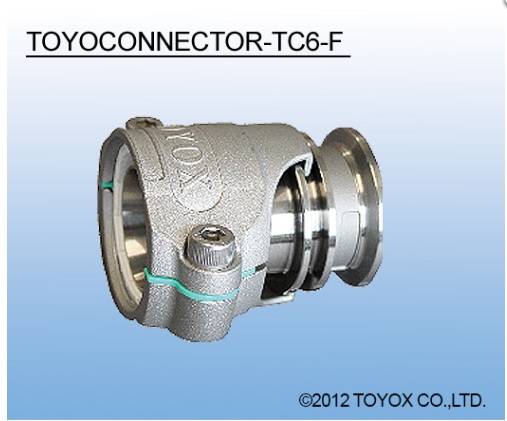 <<Applications>>
A coupling for equipment and devices handling foods, beverages, chemicals and the like
<<Product features>>
■ A cap nut hose coupling (using ferrules) to prevent hose leaks and disconnections.
■ Compatible hoses: TOYOFOODS, TOYOFOODS-S, TOYORING-F, ECORON, ECORON-S, TOYOFUSSO
■ Made of stainless steel for sanitary, rust-free use.
■ Prevents pooling liquid for safety and relbility.
■ Easy insertion for low maintenance.
■ Mounting is easy even on-site and there is no variation due to human operation.
■ Unlike caulked fittings, couplings are economical as they are reusable over and over again.
<<Materials>>
Nipple : SCS16 (equivalent to SUS 316L)
Clamp : SCS14 (equivalent to SUS 316)
Rubber cap : EPDM
Spacer, Washer ( Only the 50 size ) : Polyacetal
Bolt : SUSXM7 ( equivalent to SUS 304 )
Lubricant of the bolt screw portion : NSF " H1 " registered grease
++Prevents leaks and disconnections++
Attaches securely to the hose with a special sleeve construction, eliminating fluid leaks and hose disconnections.
++Labor savings++
Additional tightening is not needed for reduced maintenance.
++Standardization of work ++
Easy attachment that only requires securely fastening the clamp. As the hose opening is the same size as the hose, it is easy to insert the hose making it possible to install pipes in a short amount of time.
++Sanitary++
The shape of the nipple prevents liquid pooling, making it sanitary and perfect for conveying foods and beverages.
++Can be installed on-site++
Unlike products requiring tightening, the hose length can be adjusted on-site for easy installation.
++Waste reduction++
Coupling units can be reused, reducing waste and cutting costs.
++Risk reduction++
The TOYOCONNECTOR-TC6-F prevents hose common problems such as leaks and disconnections due to vibration. Even if there were an earthquake or other disaster, it would be easy to resume everything back to work.
++Easy assembly without the need for special tools++
Capable of being fastened with a spanner, motor wrench, or hex wrench.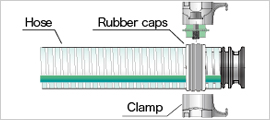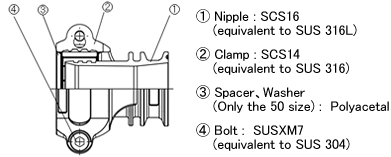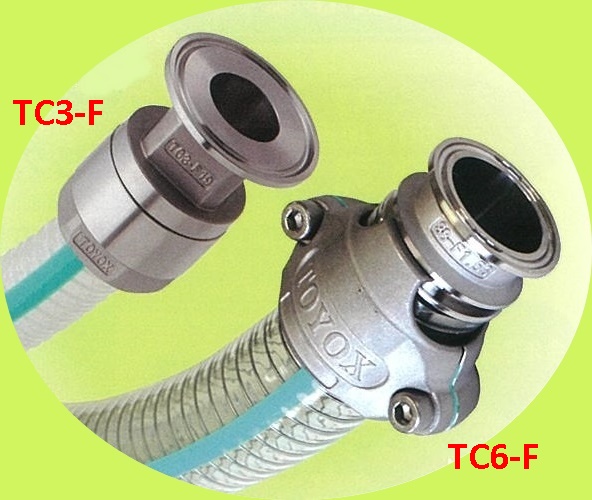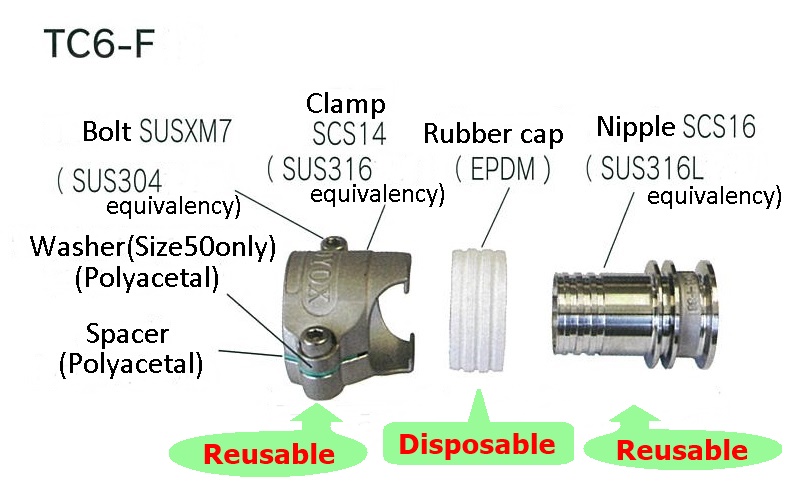 <<Coupling Standards Chart>>
| | | | | | | | | | | |
| --- | --- | --- | --- | --- | --- | --- | --- | --- | --- | --- |
| Product no. | Coupling standards | Size (mm) |   |   |   |   |   |   | Weight | Packaging quantity |
|   |   | L | φd1 | F | A | B | C | HEX2 | g | Pieces |
| TC6-F32-1.5S | 1.5S | 70.5 | 25 | 81 | 50.5 | 43.5 | 36 | 6 | 450 | 4 |
| TC6-F38-1.5S | 1.5S | 76.5 | 31 | 88 | 50.5 | 43.5 | 36 | 6 | 530 | 4 |
| TC6-F50-2S | 2S | 88.5 | 42 | 106 | 64 | 56.5 | 48 | 8 | 890 | 2 |