++NEW++ Clamp Lever with Spring Washer LDM-W / LDMS-W (NBK brand)
2017.2.1
Clamp Lever with Spring Washer
LDM-W / LDMS-W (NBK brand)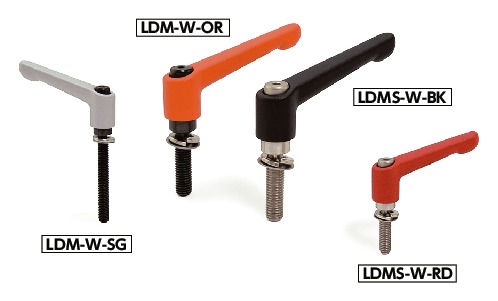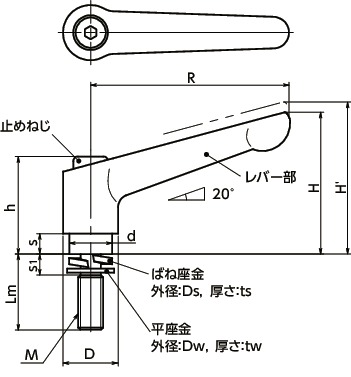 <<Material & Finishing>>
LDM-W
LDMS-W
Lever
Zinc die-cast
Zinc die-cast
electrostatic spray coating
electrostatic spray coating
Screw
SUM22L
SUS303
alkaline blackening
Spring Washer
SUS304
SUS304
Flat Washer
SUS304
SUS303
Set screw
Steel
SUS303
alkaline blackening
Spring
SWPB
Stainless wire
<<Characters>>
Clamp Lever with Spring Washer.

Unnecessary to assemble the washer.

The Specially Shaped Flat Washer (Patent-pending) can prevent from dropping spring washer.

The flat whasher can be removed by rolling along screw thread. The spring washer can be replaced to other washer.

The lever part is coated with frosed matte type electrostatic spray for inconspicuous scratches.

The lever has 4 color variations. You can select by Suffix code.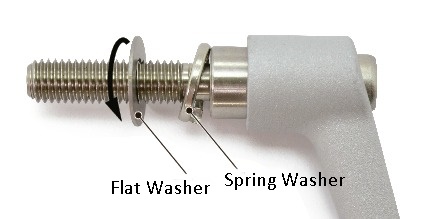 | | |
| --- | --- |
| Suffix code | Lever colors |
| BK | Mat Black |
| SG | Mat Silver |
| OR | Mat Orange |
| RD | Mat Red |
<<Use Example>>
By ensuring the thickness from combination of flat washer and spring washer, this can be used for long-shape hole.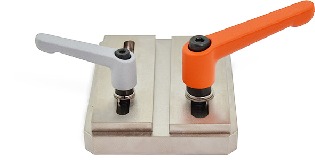 The width of long hole should be Screw nominal + 0.5mm or less.
Item Code
M (Coarse Thread)
Lm
R
H
H'
h
s
D
d
Ds
ts
Dw
tw
s1
Tooth
Max. Load
Max. Tightening
Weight
Body
(g)
Color
LDM-5-12-W-BK
M5
12
45
34
37.5
24.5
4
13
10
9
1
10
0.5
4
18
60
3.9
36
BK
LDM-5-12-W-OR
M5
12
45
34
37.5
24.5
4
13
10
9
1
10
0.5
4
18
60
3.9
36
OR
LDM-5-12-W-RD
M5
12
45
34
37.5
24.5
4
13
10
9
1
10
0.5
4
18
60
3.9
36
RD
LDM-5-12-W-SG
M5
12
45
34
37.5
24.5
4
13
10
9
1
10
0.5
4
18
60
3.9
36
SG
LDM-5-16-W-BK
M5
16
45
34
37.5
24.5
4
13
10
9
1
10
0.5
4
18
60
3.9
36
BK
LDM-5-16-W-OR
M5
16
45
34
37.5
24.5
4
13
10
9
1
10
0.5
4
18
60
3.9
36
OR
LDM-5-16-W-RD
M5
16
45
34
37.5
24.5
4
13
10
9
1
10
0.5
4
18
60
3.9
36
RD
LDM-5-16-W-SG
M5
16
45
34
37.5
24.5
4
13
10
9
1
10
0.5
4
18
60
3.9
36
SG
LDM-5-20-W-BK
M5
20
45
34
37.5
24.5
4
13
10
9
1
10
0.5
4
18
60
3.9
36
BK
LDM-5-20-W-OR
M5
20
45
34
37.5
24.5
4
13
10
9
1
10
0.5
4
18
60
3.9
36
OR
LDM-5-20-W-RD
M5
20
45
34
37.5
24.5
4
13
10
9
1
10
0.5
4
18
60
3.9
36
RD
LDM-5-20-W-SG
M5
20
45
34
37.5
24.5
4
13
10
9
1
10
0.5
4
18
60
3.9
36
SG
LDM-5-25-W-BK
M5
25
45
34
37.5
24.5
4
13
10
9
1
10
0.5
4
18
60
3.9
37
BK
LDM-5-25-W-OR
M5
25
45
34
37.5
24.5
4
13
10
9
1
10
0.5
4
18
60
3.9
37
OR
LDM-5-25-W-RD
M5
25
45
34
37.5
24.5
4
13
10
9
1
10
0.5
4
18
60
3.9
37
RD
LDM-5-25-W-SG
M5
25
45
34
37.5
24.5
4
13
10
9
1
10
0.5
4
18
60
3.9
37
SG
LDM-5-32-W-BK
M5
32
45
34
37.5
24.5
4
13
10
9
1
10
0.5
4
18
60
3.9
38
BK
LDM-5-32-W-OR
M5
32
45
34
37.5
24.5
4
13
10
9
1
10
0.5
4
18
60
3.9
38
OR
LDM-5-32-W-RD
M5
32
45
34
37.5
24.5
4
13
10
9
1
10
0.5
4
18
60
3.9
38
RD
LDM-5-32-W-SG
M5
32
45
34
37.5
24.5
4
13
10
9
1
10
0.5
4
18
60
3.9
38
SG
LDM-5-40-W-BK
M5
40
45
34
37.5
24.5
4
13
10
9
1
10
0.5
4
18
60
3.9
39
BK
LDM-5-40-W-OR
M5
40
45
34
37.5
24.5
4
13
10
9
1
10
0.5
4
18
60
3.9
39
OR
LDM-5-40-W-RD
M5
40
45
34
37.5
24.5
4
13
10
9
1
10
0.5
4
18
60
3.9
39
RD
LDM-5-40-W-SG
M5
40
45
34
37.5
24.5
4
13
10
9
1
10
0.5
4
18
60
3.9
39
SG
LDM-5-50-W-BK
M5
50
45
34
37.5
24.5
4
13
10
9
1
10
0.5
4
18
60
3.9
40
BK
LDM-5-50-W-OR
M5
50
45
34
37.5
24.5
4
13
10
9
1
10
0.5
4
18
60
3.9
40
OR
LDM-5-50-W-RD
M5
50
45
34
37.5
24.5
4
13
10
9
1
10
0.5
4
18
60
3.9
40
RD
LDM-5-50-W-SG
M5
50
45
34
37.5
24.5
4
13
10
9
1
10
0.5
4
18
60
3.9
40
SG
LDM-6-12-W-BK
M6
12
45
34
37.5
24.5
4
13
10
12
2
12
0.6
5
18
100
5.5
36
BK
LDM-6-12-W-OR
M6
12
45
34
37.5
24.5
4
13
10
12
2
12
0.6
5
18
100
5.5
36
OR
LDM-6-12-W-RD
M6
12
45
34
37.5
24.5
4
13
10
12
2
12
0.6
5
18
100
5.5
36
RD
LDM-6-12-W-SG
M6
12
45
34
37.5
24.5
4
13
10
12
2
12
0.6
5
18
100
5.5
36
SG
LDM-6-16-W-BK
M6
16
45
34
37.5
24.5
4
13
10
12
2
12
0.6
5
18
100
5.5
36
BK
LDM-6-16-W-OR
M6
16
45
34
37.5
24.5
4
13
10
12
2
12
0.6
5
18
100
5.5
36
OR
LDM-6-16-W-RD
M6
16
45
34
37.5
24.5
4
13
10
12
2
12
0.6
5
18
100
5.5
36
RD
LDM-6-16-W-SG
M6
16
45
34
37.5
24.5
4
13
10
12
2
12
0.6
5
18
100
5.5
36
SG
LDM-6-20-W-BK
M6
20
45
34
37.5
24.5
4
13
10
12
2
12
0.6
5
18
100
5.5
37
BK
LDM-6-20-W-OR
M6
20
45
34
37.5
24.5
4
13
10
12
2
12
0.6
5
18
100
5.5
37
OR
LDM-6-20-W-RD
M6
20
45
34
37.5
24.5
4
13
10
12
2
12
0.6
5
18
100
5.5
37
RD
LDM-6-20-W-SG
M6
20
45
34
37.5
24.5
4
13
10
12
2
12
0.6
5
18
100
5.5
37
SG
LDM-6-25-W-BK
M6
25
45
34
37.5
24.5
4
13
10
12
2
12
0.6
5
18
100
5.5
38
BK
LDM-6-25-W-OR
M6
25
45
34
37.5
24.5
4
13
10
12
2
12
0.6
5
18
100
5.5
38
OR
LDM-6-25-W-RD
M6
25
45
34
37.5
24.5
4
13
10
12
2
12
0.6
5
18
100
5.5
38
RD
LDM-6-25-W-SG
M6
25
45
34
37.5
24.5
4
13
10
12
2
12
0.6
5
18
100
5.5
38
SG
LDM-6-32-W-BK
M6
32
45
34
37.5
24.5
4
13
10
12
2
12
0.6
5
18
100
5.5
39
BK
LDM-6-32-W-OR
M6
32
45
34
37.5
24.5
4
13
10
12
2
12
0.6
5
18
100
5.5
39
OR
LDM-6-32-W-RD
M6
32
45
34
37.5
24.5
4
13
10
12
2
12
0.6
5
18
100
5.5
39
RD
LDM-6-32-W-SG
M6
32
45
34
37.5
24.5
4
13
10
12
2
12
0.6
5
18
100
5.5
39
SG
LDM-6-40-W-BK
M6
40
45
34
37.5
24.5
4
13
10
12
2
12
0.6
5
18
100
5.5
41
BK
LDM-6-40-W-OR
M6
40
45
34
37.5
24.5
4
13
10
12
2
12
0.6
5
18
100
5.5
41
OR
LDM-6-40-W-RD
M6
40
45
34
37.5
24.5
4
13
10
12
2
12
0.6
5
18
100
5.5
41
RD
LDM-6-40-W-SG
M6
40
45
34
37.5
24.5
4
13
10
12
2
12
0.6
5
18
100
5.5
41
SG
LDM-6-50-W-BK
M6
50
45
34
37.5
24.5
4
13
10
12
2
12
0.6
5
18
100
5.5
42
BK
LDM-6-50-W-OR
M6
50
45
34
37.5
24.5
4
13
10
12
2
12
0.6
5
18
100
5.5
42
OR
LDM-6-50-W-RD
M6
50
45
34
37.5
24.5
4
13
10
12
2
12
0.6
5
18
100
5.5
42
RD
LDM-6-50-W-SG
M6
50
45
34
37.5
24.5
4
13
10
12
2
12
0.6
5
18
100
5.5
42
SG
LDM-8-12-W-BK
M8
12
63
45
49
31
6.5
17.5
13.5
15
2
16
0.8
6
24
180
10
81
BK
LDM-8-12-W-OR
M8
12
63
45
49
31
6.5
17.5
13.5
15
2
16
0.8
6
24
180
10
81
OR
LDM-8-12-W-RD
M8
12
63
45
49
31
6.5
17.5
13.5
15
2
16
0.8
6
24
180
10
81
RD
LDM-8-12-W-SG
M8
12
63
45
49
31
6.5
17.5
13.5
15
2
16
0.8
6
24
180
10
81
SG
LDM-8-16-W-BK
M8
16
63
45
49
31
6.5
17.5
13.5
15
2
16
0.8
6
24
180
10
82
BK
LDM-8-16-W-OR
M8
16
63
45
49
31
6.5
17.5
13.5
15
2
16
0.8
6
24
180
10
82
OR
LDM-8-16-W-RD
M8
16
63
45
49
31
6.5
17.5
13.5
15
2
16
0.8
6
24
180
10
82
RD
LDM-8-16-W-SG
M8
16
63
45
49
31
6.5
17.5
13.5
15
2
16
0.8
6
24
180
10
82
SG
LDM-8-20-W-BK
M8
20
63
45
49
31
6.5
17.5
13.5
15
2
16
0.8
6
24
180
10
83
BK
LDM-8-20-W-OR
M8
20
63
45
49
31
6.5
17.5
13.5
15
2
16
0.8
6
24
180
10
83
OR
LDM-8-20-W-RD
M8
20
63
45
49
31
6.5
17.5
13.5
15
2
16
0.8
6
24
180
10
83
RD
LDM-8-20-W-SG
M8
20
63
45
49
31
6.5
17.5
13.5
15
2
16
0.8
6
24
180
10
83
SG
LDM-8-25-W-BK
M8
25
63
45
49
31
6.5
17.5
13.5
15
2
16
0.8
6
24
180
10
85
BK
LDM-8-25-W-OR
M8
25
63
45
49
31
6.5
17.5
13.5
15
2
16
0.8
6
24
180
10
85
OR
LDM-8-25-W-RD
M8
25
63
45
49
31
6.5
17.5
13.5
15
2
16
0.8
6
24
180
10
85
RD
LDM-8-25-W-SG
M8
25
63
45
49
31
6.5
17.5
13.5
15
2
16
0.8
6
24
180
10
85
SG
LDM-8-32-W-BK
M8
32
63
45
49
31
6.5
17.5
13.5
15
2
16
0.8
6
24
180
10
86
BK
LDM-8-32-W-OR
M8
32
63
45
49
31
6.5
17.5
13.5
15
2
16
0.8
6
24
180
10
86
OR
LDM-8-32-W-RD
M8
32
63
45
49
31
6.5
17.5
13.5
15
2
16
0.8
6
24
180
10
86
RD
LDM-8-32-W-SG
M8
32
63
45
49
31
6.5
17.5
13.5
15
2
16
0.8
6
24
180
10
86
SG
LDM-8-40-W-BK
M8
40
63
45
49
31
6.5
17.5
13.5
15
2
16
0.8
6
24
180
10
89
BK
LDM-8-40-W-OR
M8
40
63
45
49
31
6.5
17.5
13.5
15
2
16
0.8
6
24
180
10
89
OR
LDM-8-40-W-RD
M8
40
63
45
49
31
6.5
17.5
13.5
15
2
16
0.8
6
24
180
10
89
RD
LDM-8-40-W-SG
M8
40
63
45
49
31
6.5
17.5
13.5
15
2
16
0.8
6
24
180
10
89
SG
LDM-8-50-W-BK
M8
50
63
45
49
31
6.5
17.5
13.5
15
2
16
0.8
6
24
180
10
92
BK
LDM-8-50-W-OR
M8
50
63
45
49
31
6.5
17.5
13.5
15
2
16
0.8
6
24
180
10
92
OR
LDM-8-50-W-RD
M8
50
63
45
49
31
6.5
17.5
13.5
15
2
16
0.8
6
24
180
10
92
RD
LDM-8-50-W-SG
M8
50
63
45
49
31
6.5
17.5
13.5
15
2
16
0.8
6
24
180
10
92
SG
LDM-8-63-W-BK
M8
63
63
45
49
31
6.5
17.5
13.5
15
2
16
0.8
6
24
180
10
96
BK
LDM-8-63-W-OR
M8
63
63
45
49
31
6.5
17.5
13.5
15
2
16
0.8
6
24
180
10
96
OR
LDM-8-63-W-RD
M8
63
63
45
49
31
6.5
17.5
13.5
15
2
16
0.8
6
24
180
10
96
RD
LDM-8-63-W-SG
M8
63
63
45
49
31
6.5
17.5
13.5
15
2
16
0.8
6
24
180
10
96
SG
LDM-10-16-W-BK
M10
16
78
54
58
36
8
21
16
18
3
20
1
7
26
290
16
135
BK
LDM-10-16-W-OR
M10
16
78
54
58
36
8
21
16
18
3
20
1
7
26
290
16
135
OR
LDM-10-16-W-RD
M10
16
78
54
58
36
8
21
16
18
3
20
1
7
26
290
16
135
RD
LDM-10-16-W-SG
M10
16
78
54
58
36
8
21
16
18
3
20
1
7
26
290
16
135
SG
LDM-10-20-W-BK
M10
20
78
54
58
36
8
21
16
18
3
20
1
7
26
290
16
136
BK
LDM-10-20-W-OR
M10
20
78
54
58
36
8
21
16
18
3
20
1
7
26
290
16
136
OR
LDM-10-20-W-RD
M10
20
78
54
58
36
8
21
16
18
3
20
1
7
26
290
16
136
RD
LDM-10-20-W-SG
M10
20
78
54
58
36
8
21
16
18
3
20
1
7
26
290
16
136
SG
LDM-10-25-W-BK
M10
25
78
54
58
36
8
21
16
18
3
20
1
7
26
290
16
139
BK
LDM-10-25-W-OR
M10
25
78
54
58
36
8
21
16
18
3
20
1
7
26
290
16
139
OR
LDM-10-25-W-RD
M10
25
78
54
58
36
8
21
16
18
3
20
1
7
26
290
16
139
RD
LDM-10-25-W-SG
M10
25
78
54
58
36
8
21
16
18
3
20
1
7
26
290
16
139
SG
LDM-10-32-W-BK
M10
32
78
54
58
36
8
21
16
18
3
20
1
7
26
290
16
142
BK
LDM-10-32-W-OR
M10
32
78
54
58
36
8
21
16
18
3
20
1
7
26
290
16
142
OR
LDM-10-32-W-RD
M10
32
78
54
58
36
8
21
16
18
3
20
1
7
26
290
16
142
RD
LDM-10-32-W-SG
M10
32
78
54
58
36
8
21
16
18
3
20
1
7
26
290
16
142
SG
LDM-10-40-W-BK
M10
40
78
54
58
36
8
21
16
18
3
20
1
7
26
290
16
146
BK
LDM-10-40-W-OR
M10
40
78
54
58
36
8
21
16
18
3
20
1
7
26
290
16
146
OR
LDM-10-40-W-RD
M10
40
78
54
58
36
8
21
16
18
3
20
1
7
26
290
16
146
RD
LDM-10-40-W-SG
M10
40
78
54
58
36
8
21
16
18
3
20
1
7
26
290
16
146
SG
LDM-10-50-W-BK
M10
50
78
54
58
36
8
21
16
18
3
20
1
7
26
290
16
151
BK
LDM-10-50-W-OR
M10
50
78
54
58
36
8
21
16
18
3
20
1
7
26
290
16
151
OR
LDM-10-50-W-RD
M10
50
78
54
58
36
8
21
16
18
3
20
1
7
26
290
16
151
RD
LDM-10-50-W-SG
M10
50
78
54
58
36
8
21
16
18
3
20
1
7
26
290
16
151
SG
LDM-10-63-W-BK
M10
63
78
54
58
36
8
21
16
18
3
20
1
7
26
290
16
158
BK
LDM-10-63-W-OR
M10
63
78
54
58
36
8
21
16
18
3
20
1
7
26
290
16
158
OR
LDM-10-63-W-RD
M10
63
78
54
58
36
8
21
16
18
3
20
1
7
26
290
16
158
RD
LDM-10-63-W-SG
M10
63
78
54
58
36
8
21
16
18
3
20
1
7
26
290
16
158
SG
LDM-10-80-W-BK
M10
80
78
54
58
36
8
21
16
18
3
20
1
7
26
290
16
166
BK
LDM-10-80-W-OR
M10
80
78
54
58
36
8
21
16
18
3
20
1
7
26
290
16
166
OR
LDM-10-80-W-RD
M10
80
78
54
58
36
8
21
16
18
3
20
1
7
26
290
16
166
RD
LDM-10-80-W-SG
M10
80
78
54
58
36
8
21
16
18
3
20
1
7
26
290
16
166
SG