++NEW++ Shock Abosorber with bellows cover "PowerStop® " (NBK brand)
2017.1.31
 PowerStop® -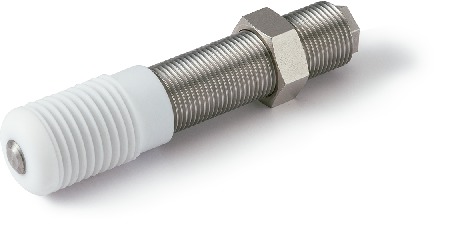 Long life and high energy absorption type -
Bellows cover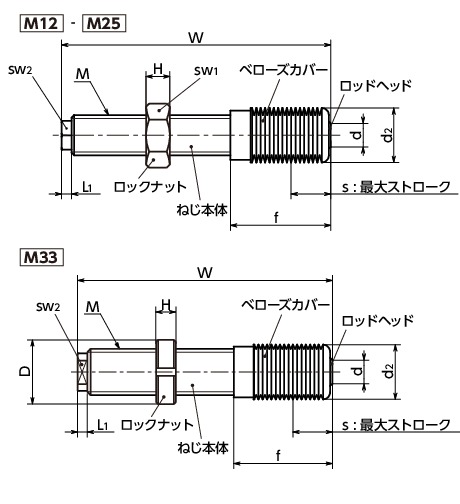 <<Character>>
High-performance Shock Abosorber with bellows cover on APS type.
Usable under circumstance splashing liquids such as coolant.
Suppressing splash oils to outside by covering the rod completely.
Usable in liquids dut to sealed structure.
Long-life 4Million cycles (as reference).
Allowed arguments : 2degrees
Operational Temp. : -10 - +70degreeC
IP Protection class : IP67
3 standard types by impact rate.
<<Material>>
APS-B
Screw
Stainless
Lock Nut
Steel
Electroless nickel plating
Rod Head
Stainless
Bellows cover
PTFE
<<Dimensions>>
Item code
M
d
d2
f
W
H
sw1
D
sw2
Weight
(g)
APS-M12-1-S-B
M12×1
4
17
29
79.5
6
14
-
8
45
APS-M12-1-M-B
M12×1
4
17
29
79.5
6
14
-
8
45
APS-M12-1-H-B
M12×1
4
17
29
79.5
6
14
-
8
45
APS-M14-1.5-S-B
M14×1.5
5
19
35
94
8
17
-
10
80
APS-M14-1.5-M-B
M14×1.5
5
19
35
94
8
17
-
10
80
APS-M14-1.5-H-B
M14×1.5
5
19
35
94
8
17
-
10
80
APS-M20-1.5-S-B
M20×1.5
6
25
44
111
10
24
-
14
170
APS-M20-1.5-M-B
M20×1.5
6
25
44
111
10
24
-
14
170
APS-M20-1.5-H-B
M20×1.5
6
25
44
111
10
24
-
14
170
APS-M25-1.5-S-B
M25×1.5
8
30
56
151
12
30
-
19
345
APS-M25-1.5-M-B
M25×1.5
8
30
56
151
12
30
-
19
345
APS-M25-1.5-H-B
M25×1.5
8
30
56
151
12
30
-
19
345
APS-M33-1.5-S-B
M33×1.5
12
39
70.5
182
10
-
41
24
765
APS-M33-1.5-M-B
M33×1.5
12
39
70.5
182
10
-
41
24
765
APS-M33-1.5-H-B
M33×1.5
12
39
70.5
182
10
-
41
24
765