Super Tom Fusso-easy Hose
Product Detail

Quick Details

Packaging & Delivery
Super Tom Fusso-easy Hose
| | |
| --- | --- |
| FOB Price: | |
| Min.Order Quantity: | 20meter/roll |
| Supply Ability | 10~20rolls/month |
| Port | Tokyo Port/Air port |
| Payment Terms | T/T |
Quick Details
| | |
| --- | --- |
| Model Number | FE |
| Brand Name | TOGAWA Industry |
| Place of origin | Made in Japan |
| Material | fluorine resin |
| Type | FE-9,12,15,19,25 |
| Standard or | None |
Packaging & Delivery
| | |
| --- | --- |
| Packaging Details: | |
| Delivery Detail: | 2weeks |
More Information
Nominal designation
Inner diameter (mm)
Outer diameter (mm)
Regular size (m)
Maximum working pressure
MPa at20℃
Minimum bending radius (mm)
Weight (kg/m)
Regular size weight (kg)
FE-9
9
15
20
1.1
45
0.141
2.8
FE-12
12
18
20
1
60
0.177
3.5
FE-15
15
22
20
0.8
75
0.253
5.1
FE-19
19
26
20
0.7
95
0.308
6.2
FE-25
25
33
20
0.6
125
0.451
9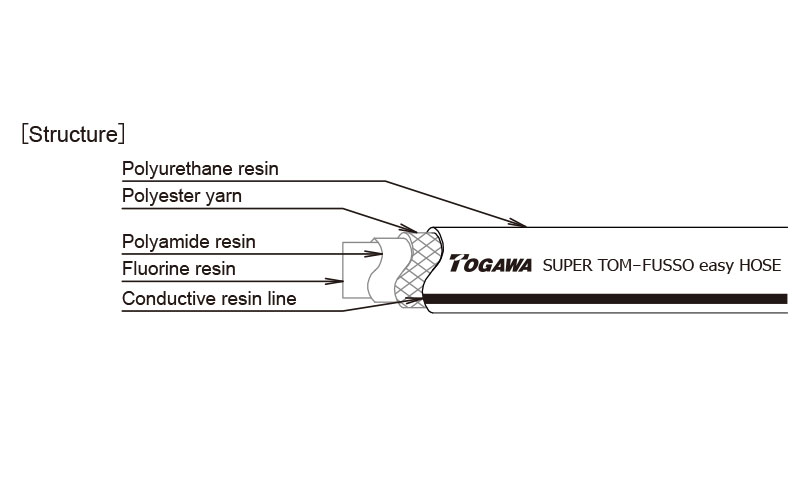 The super soft fusso hose with a conductive resin line.
【Features】
A versatile chemical hose is now available!
As a conductive sleeve is applied around the outer layer, the grounding can be completed just by tightening the metallic joint (when the resistance value is "9× 106 W" or less, and the whole length is 15m or less).
For piping of paints, solvents, chemicals, drinking water and foods.

Excellent solvent and chemical resistance and low leachability.
Specifications: Working temperature limit: Between -20℃ and + 60℃